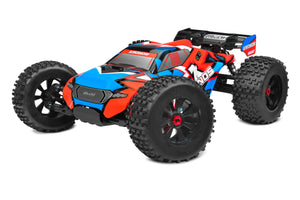 CORALLY 1/8 Kronos XP 4WD Monster Truck 6S Brushless RTR (No Battery or Charger) COR00172
We are an Authorized Corally Retail Store.
Come to us for all your Cross-RC products, parts, and accessories.  If you need it, we can get it.  Contact us... we can beat any price.
FAST Shipping.
CORALLY 1/8 Kronos XP 4WD Monster Truck 6S Brushless RTR (No Battery or Charger) COR00172
If you enjoy the concept of "go big or go home", few vehicles can match a 1/8 scale Monster Truggy for incredible top speeds and the ability to handle virtually any type of track, surface, or terrain like Team Corally's Kronos XP 4WD 1/8 Scale Brushless Monster Truggy RTR. Able to handle massive 6S LiPo power and including a 2050KV brushless motor, you can utterly dominate lesser models at your local track, skate park or bash spot. With its aggressive appearance, race-inspired design, and plush suspension the Kronos XP can tackle to the most challenging bumps and jumps and will come back for more.

The durable, all-metal four-wheel drivetrain, fully independent suspension, racing chassis, stump-pulling power, and aerodynamic racing bodyshell design, the Kronos XP may be the ultimate electric 1/8 scale monster truggy for drivers looking for an unmatched bashing performance.

All-Season Driving, Anytime and Anywhere
The Team Corally Kronos XP Monster Truggy features a full suite of water-resistant electronics, so it's ready for driving in most any conditions. Not only is the ESC resistant to splashes of water and mud, but the steering servo and receiver are also protected from the elements by special water-resistant PCB coatings. The receiver is further protected by a sealed enclosure to protect against dust, mud, and moisture. Of course, aerospace-quality rubber sealed ball bearings are standard on the Kronos XP, meaning you can drive virtually anywhere and in most any conditions
(Please note: no RC vehicle should be driven or submerged in water or mud. Take care when driving in extreme conditions, and proper maintenance such as cleaning and lubricating should take place after driving in mud, water or near salt water.)

Racing Style Chassis for Extreme Performance
Inspired by top-tier professional racing machines in the RC industry, the Kronos XP utilizes an aluminium pan-style chassis for the most efficient and durable chassis layout. With an optimized forward weight bias, the heaviest drivetrain components and other systems are kept as close to the front as possible. Robust, triangulated front and rear chassis braces provide additional rigidity that allows the aluminium big bore shocks and HiCC8 composite suspension parts to perform without the negative effects of chassis plate flex. The reinforced composite chassis side guards have integrated front brackets to provide additional protection for the polycarbonate body and electronics. The exclusive Team Corally's exclusive SPL system secures shock spring perches and prevents spring misalignment during extreme compression/rebound while the innovative RSP Sway Bar system keeps the Kronos planted in corners and ensures consistent handling on all surfaces.

Massive 2050KV Brushless Power
With a Team Corally Kuron 2050KV 4-pole motor mounted on a torsion-resistant aluminium 2-piece sliding mount, you can be confident of attaining maximum speeds for big-air stunts! The motor is fitted with a hardened steel pinion gear, which mates to a hardened steel spur gear on the center differential.
Looking to achieve remarkable top speeds with a pull of the trigger? Speeds of over 110 km/h (70+ mph) are easy - just fit the appropriate battery!

LiPo Power Ready
The battery holder of the Kronos can fit batteries packs in all the popular sizes and is adjustable for maximum versatility. The versatile Team Corally Kuron 2050KV motor can utilize 4S-6S LiPo batteries to optimize performance on any surface or in any conditions!

Durable Steel Drive System with Three Fluid-Filled Differentials
As usually seen only on premium competition-level RC vehicles, the Kronos is fitted with front, center, and rear silicone fluid-filled and sealed limited-slip differentials that ensure the full amount of power from the 2050KV Kuron motor gets to the ground. With easy removal and maintenance, you can even alter each differential individually to fine-tune the amount of traction at either end of the truggy! Inside, you'll find a complete set of metal gears and outdrive cups that connect to steel central driveshafts. The front end is driven by CVD driveshafts, while the rear is driven by robust metal dogbones, with the entire drivetrain supported by aerospace-quality 8x16x5mm rubber sealed ball bearings for maximum efficiency and durability.

Premium Alloy/Steel Center Differential Assembly
The critical center diff used on the Kronos XP features an aluminium alloy case and durable, steel spur gear for unsurpassed performance and reliability. The metal case allows optimal alignment of the internal gear assembly through improved heat dissipation and reducing fluid loss, while the steel spur gear ensures maximum power delivery and resistance to damage from dirt or debris.

Skid Plates and Braces
The Kronos includes enhanced front and rear composite skid plates to protect the chassis and critical suspension components, especially during insane big-air jumps. The rear wing mount features additional bracing to maintain proper wing alignment during the most severe jumps and occasional tumbles, while the additional front upper arm brace keeps critical suspension components properly aligned during the harshest bashing use.

Adjustable Battery Mount
The innovative battery mount allows the Kronos XP to conveniently secure most any 4S-6S LiPo made for surface vehicles, protecting your battery investment, while providing optimum weight distribution.

Optimized Racing Suspension
The Kronos XP features a robust pivot ball-style front suspension utilizing steel pivots and steering turnbuckles in addition to durable composite suspension arms. The rear suspension features composite outboard hubs and one-piece composite upper suspension links. At each corner, durable HiCC8 composite suspension arms and threaded, adjustable 16mm big bore oil-filled shock absorbers produce plush, compliant handling.

Innovative All-Terrain Tyres
Massive, high-grip rubber tyres feature foam inner liners and are glued on super-rugged multi-spoke wheels secured to 17mm hex drive hubs. The "big-block", multi-surface tread pattern with strong sidewalls minimize ballooning and offers maximum control at any speed on any surface.

Varioprop S2R Steering Wheel Controller
The Kronos is fully controlled by the ergonomically designed pistol-grip style radio transmitter, which features the latest 2.4GHz technology for interference-free control at a distance of 300m. The realistic steering wheel design makes driving intuitive and comfortable. The pistol grip trigger provides perfect control of the throttle, with forward and reverse controls combined in a single control. Learning how to control the Kronos is quick and easy with the S2R controller!

The Kronos XP RTR is an exciting, impressive all-terrain machine! If you're looking to make an all-out assault on lesser cars with speed and jumping capability that other cars simply cannot duplicate, then look no further than the Kronos XP RTR from Team Corally.

Features:
New Color Sheme
Alloy Center Diff
50T Steel Main gear
Updated Suspension Arm Front Lower
Updated Suspension Arm Rear Lower
Updated Servo Saver Plate
Updated Rear Chassis Brace
Updated Front Shock Stay Brace
Updated Rear Shock Stay Braces
Updated Wing Stay
New Ackerman Plate 7075 material 3mm
New Wing Connecting Brace
New Wing Washer
Alloy Front Upper Arm Stiffener Plate
New Motor / Diff Mount
Extra Hardened Drive Joints
New Composite Steering links
New Composite Rear Upper Links
New Front Bumper w/ integrated Skid Plate
New Rear Bumper w/ integrated Skid Plate
25 KG Digital Servo - HV - Steel Gears - CRHV-7225"
---
We Also Recommend
---