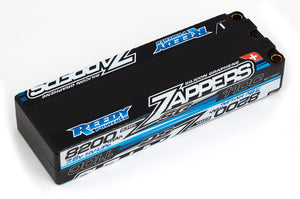 Team Associated RC Reedy Zappers 2S 110C Hard Case LiPo Battery 7.6V 8200mAh
We are an Authorized Team Associated Retail Store.
Come to us for all your Team Associated RC products, parts, and accessories.  If you need it, we can get it.  Contact us... we can beat any price.
FAST Shipping.
ASC27320
Reedy Zappers SG 8200mAh 110C 7.6V 2S Lipo Battery, LP Stick
The Zappers SG HV-LiPo batteries have silicon graphene construction which lowers internal resistance, increases voltage output, reduces operating temperatures, and improves cycle-life. 
Zappers SG perfectly describes Reedy's high voltage LiPo battery chemistry! A 7.6 nominal voltage means that with a suitable charger, the battery can be safely charged to 4.35V/cell. It is not a secret that more voltage equals more power so there is no easier way to achieve a performance advantage than pairing silicon graphene construction with a higher charge voltage!
However, even when the typical 8.4V (4.2V/cell) charging limit is enforced, Zappers SG still offers a significant advantage thanks to a flatter discharge curve, which results in more voltage deeper into the race.
A high-quality, durable hard case helps prevent damage while embedded socket connectors keep power-robbing resistance to a minimum. A charge lead and male ESC connectors are included.
Dimensions: 137.8x46.7x24.8mm 
Features:
Silicon Graphene HV-LiPo chemistry
Extended cycle-life
Reduced IR
Durable hard case
Built to ROAR/EFRA/BRCA/IFMAR specifications
Specifications:
Weight: 330g
Socket: 5mm
Capacity: 8200mAh
Voltage: 7.6V (2S)
Max Carge Rate: 16.4A
Discharge Current: 110C
---
We Also Recommend
---